National recording artist Josh Kelley recently stopped by the morning show at MOViN 100.3/96.5 (WOLF-FM/WWLF) in Syracuse, to perform some of his tunes live on the air.
Kelley (who is famous not just for his songs, but also as the husband of Grey's Anatomy star Katherine Heigl) is pictured here with MOViN morning co-host Jessica Rolince.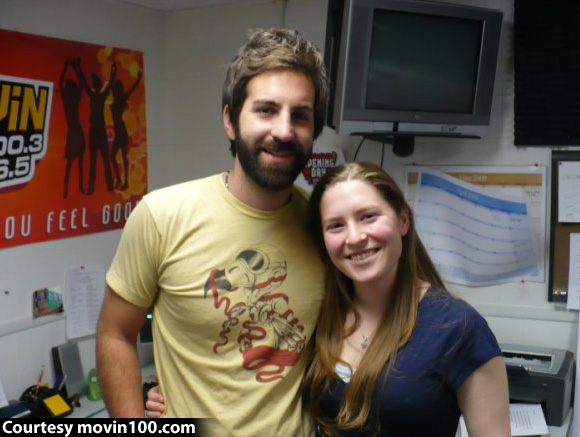 We tried to get one with Kelley, Rolince and co-host/PD Skip Clark, but the only picture that included all 3 together had a mic boom in front of Clark's face.  (You can see for yourself, and the rest of the pictures from Kelley's visit, on MOViN 100's website.)  We figured this was the next best choice... perhaps good enough to make Katherine Heigl a little jealous?
Why hasn't your station been a Picture of the Week yet?
You can keep waiting in the hopes we find a POTW on your station website... or just cut to the chase and send one in!  We're always looking for pictures of current station events, as well as interesting pictures from the past.  The address is pictures <at> cnyradio.com .