People who work in morning radio seem to have different strategies when it comes to sleeping.  Some force themselves to bed at 8pm, even when it's still light out.  Others sleep in split shifts.  But the crew at MOViN 100.3/96.5 seems to have figured out how to sneak in a few winks on the job!
Well, OK, they're not really sleeping... but since someone was nice enough to send in these pictures, they get the honor of being our Picture of the Week!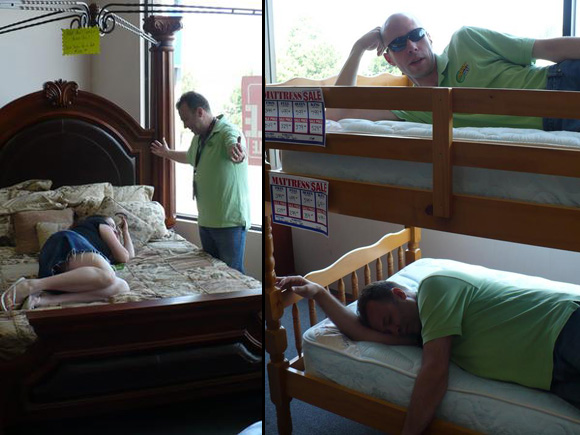 The crew was recently broadcasting live at Affordable Furniture for their MOViN Makeover Giveaway.  At left, morning co-host Jess Rolince curls up for a quick "catnap," while co-host/PD Skip Clark gives her some attitude.  But a few minutes later... do we hear Skip mumbling "do as I say, not as I do" between snores?  Watching from the top bunk is MOViN morning producer Jeremy Pilot. 
Send Us YOUR Pictures!
We're always on the lookout for pictures of what's happening today at your station, or a unique glimpse of something interesting from the past.  Just send 'em to pictures <at> cnyradio.com.