Many folks in radio don't get the 4th of July off, so we're not taking it off either!  We're going back 10 years for this Picture of the Week, the rebuilding of the WTNY/Watertown tower, after it was destroyed in an unforgettable ice storm earlier that year.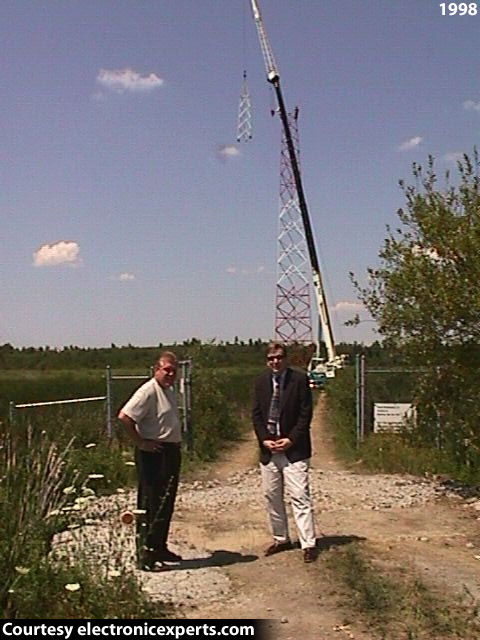 Pictured are Regent Regional VP Bob Ausfeld at left, and Bob Dakin, who was GM of the Regent Watertown cluster at the time.  Neither are involved with WTNY these days - Dakin has been to a few different markets since then.  Ausfeld is still with Regent, but the company sold their Watertown properties to Stephens Media Group earlier this year.
We're "borrowing" this picture from electronicexperts.com, a business which appears to be run by engineering expert Michael Ring.  On the site, he says Regent actually lost a total of four AM towers and an FM tower during that storm.  You can see many more pictures of the tower rebuild, including one with Michael himself, at http://www.electronicexperts.com/wtny.htm
Send Us Your Pictures!
We're always interested in what's happening today at your station, or a glimpse back at something unique or memorable from the past.  Send your photos to pictures <at> cnyradio.com.