This POTW has a somewhat timely purpose.  WRUN's (relatively) new owner Northeast Public Radio, is about to kick off its fall fund drive.  Starting next week, the network of 19 stations throughout New York, Pennsylvania and Massachusetts will begin efforts to raise $800,000 in donations from listeners.
The network, headquartered at WAMC in Albany, says the drive will continue as long as it takes to raise the full $800,000... giving listeners (especially those who hate pledge drives) an incentive to donate early and often.
Our Picture of the Week comes from a recent message board discussion that mentioned the WRUN building on Thomas Road in Oriskany.  One person mentioned having recently noticed many improvements to the building during a short detour while biking the Erie Canalway Trail earlier this summer.  We asked, and that person happened to take some pictures during the July trip.  He shared a couple with us so we could share them with you.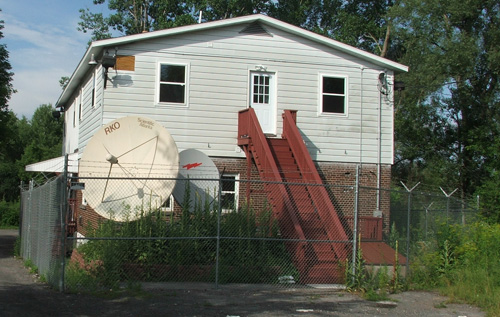 Above, the "front" side of the building you see as you drive down Thomas Road in Oriskany, towards a dead end that doubles as the parking lot.  Since Northeast Public Radio bought WRUN from Regent, they've added a new staircase to the second floor, and a barbed-wire fence all around the building.
Below, the "back" side of the building.  The most notable addition here is the new staircase and a very long, winding ramp leading up to the building's main entrance.  Those lights mounted high near the corners of the building look like they're new too.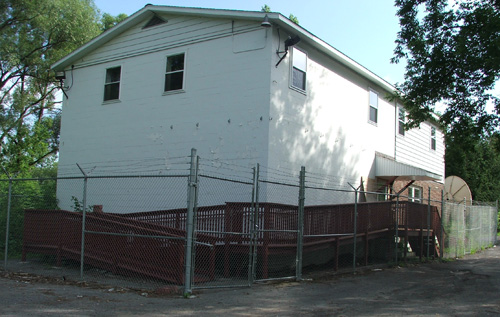 For many years, this building housed the studios and offices for both WRUN (1150 AM) and WFRG (104.3 FM).  The studios and offices moved elsewhere years ago, but the WRUN transmitter remains housed here.
Send Us Your Pictures!
We're always interested in a look at what's happening today at your station, or a glimpse back at something interesting from the past.  You can e-mail us at pictures(at)cnyradio.com or, you can upload pictures anonymously through our new Contact Page.