All aboard for a boat ride to... nowhere?  Mr. Froggy from Froggy 97 (WFRY/Watertown) was recently caught on-camera taking a break from his duties as the Watertown country station's mascot.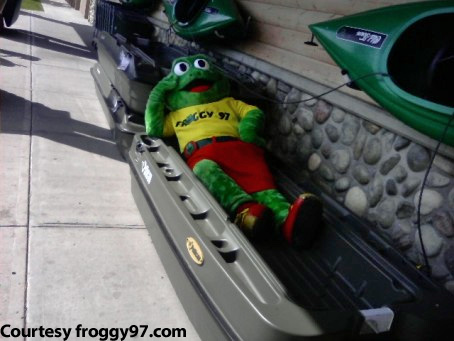 Froggy, whose first name is unknown even to the crack investigative staff of CNYRadio.com, stretches his legs during a remote broadcast at a local outdoor sports supply store you may have taken a "Gander" at, before taking any trips out to the "Mountains."
Send Us YOUR Pictures!
Has it been awhile since your station was featured in the Picture of the Week?  All you have to do us send us a picture... we're always grateful for the chance to take a week off from scrounging around the web for photos on our own.  Whether it's a look at what's happening today at your station, or a glimpse back at something memorable from the past, use our groovy Contact Page to send your pictures, or you can e-mail them to us at pictures(at)cnyradio.com.