Next Tuesday, longtime WCNY personality Don Dolloff will retire from a 34-year career at the Syracuse public radio station.  In his honor, we've decided to borrow a classic photo from Don's earlier days at the station.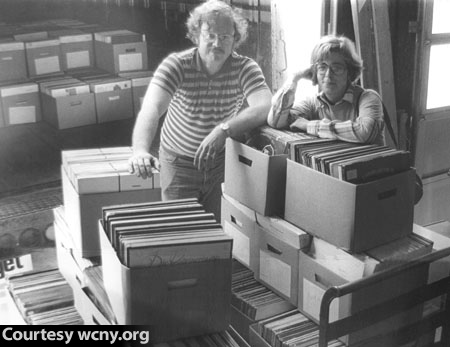 Here's Don along with Kathryn Lee, back in 1979.  As the history page on WCNY's website explains, WCNY-FM originally played a variety of musical genres.  But then... well, here's how they explain it:
Summer, 1979, was a watershed moment for WCNY-FM because commercial classical station WONO changed its format.  Well-known figure in the Syracuse arts community, Henry Fogel had left the station two years before, and now, one sunny summer day, the new owners called WCNY to say they would gladly donate their 11-thousand LP library and Syracuse Symphony Orchestra archives, if WCNY would only come pick it all up... now.  And so it happened that WCNY-FM 91.3 became 80% classical and very much the station we all know today.
WCNY-FM is still playing classical music exclusively, almost 30 years later... and according to Wikipedia, WONO is better known today as Hot 107-9 (WWHT).
And here's an interesting related link we found in our research: henrysrecords.org - maintained by the former WONO figure mentioned above.
Send Us YOUR Pictures!
Has it been awhile since your station was featured in the Picture of the Week?  All you have to do us send us a picture... we're always grateful for the chance to take a week off from scrounging around the web for photos on our own.  Whether it's a look at what's happening today at your station, or a glimpse back at something memorable from the past, use our groovy Contact Page to send your pictures, or you can e-mail them to us at pictures(at)cnyradio.com.