The namesake character of the classic TV series "Leave it to Beaver" recently stopped by the TK99/105 studios in Syracuse.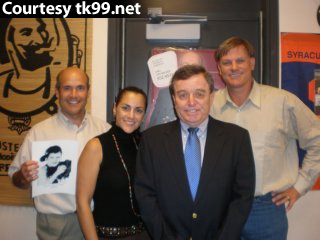 There's Jerry Mathers in the suit, flanked by TK99 morning personalities Gomez Adams, Lisa Chelenza and Dave Coombs.  TK99 has pictures with several other celebrities who've stopped by on their website.
Send Us YOUR Pictures!
Has it been awhile since your station was featured in the Picture of the Week?  All you have to do us send us a picture... we're always grateful for the chance to take a week off from scrounging around the web for photos on our own.  Whether it's a look at what's happening today at your station, or a glimpse back at something memorable from the past, use our groovy Contact Page to send your pictures, or you can e-mail them to us at pictures(at)cnyradio.com.