It's been a little over a year since Clear Channel sold its Utica-Rome cluster to Galaxy Communications.  As a result of the sale, several long-time on-air personalities were let go, but at least one has since landed on his feet.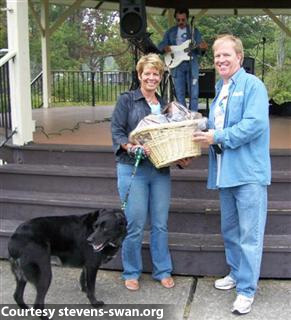 Fans of 96.9 WOUR should easily recognize that guy on the right - former afternoon drive jock Jerry Kraus.  These days, he's the PR Director at the Stevens-Swan Humane Society.  We're not sure how long he's been working at SSHS, but noticed his picture while looking around various Utica-Rome station website photo galleries for this week's POTW.
You can learn more about Stevens-Swan at http://www.stevens-swan.org/ .
Got Pictures?
We're always interested in a look at what's happening today at your station, or a look back at something unique from the past.  Just click here to send your pictures to us, or you can e-mail us at cnyradio(at)cnyradio.com.  There's a new Picture of the Week every Friday.