This year is the 40th anniversary of North Country Public Radio, headquartered at WSLU/Canton, on the campus of Saint Lawrence University.  Even though NCPR has only been around for 40 years, the history of radio at the university goes back much farther.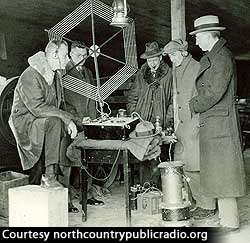 As captioned on NCPR's website: "St. Lawrence University radio pioneers Harold Bergman, Ellis Manngin, Stan Barber, Charles Geyh and Ward Priest gather around a 50-watt experimental transmitter in an old pig barn near campus in 1921."
That experimental station was assigned the call letters 8SZ.  It would later make way for other stations like WCAD and KSLU, before the present-day WSLU took to the airwaves 47 years later, in 1968.  Jump ahead another 40 years, and WSLU is now carried on 7 full-power stations and 25 translators, stretching from the NY/Canadian border, all the way down to Boonville and Glens Falls.
Interested in more?  NCPR's website has an entire page detailing its own history and those of its ancestors.
Send Us Your Pictures!
We're always interested in a peek at what's happening today at your station, or a look back at something neat from the past.  Use our handy Contact page to upload your picture, or you can e-mail us at cnyradio(at)cnyradio.com (replace the at with an @).  Either way, be sure to let us know if we can give you credit for sending in the photo, or if you'd prefer to remain anonymous. 
There's a new POTW every Friday, and this beast is hungry... so help us feed it!