ITHACA - They did it!  Ithaca College's WICB has won mtvU's inaugural "Woodie" award for "Best College Radio Station." Through online voting, WICB beat out three other finalists for the award.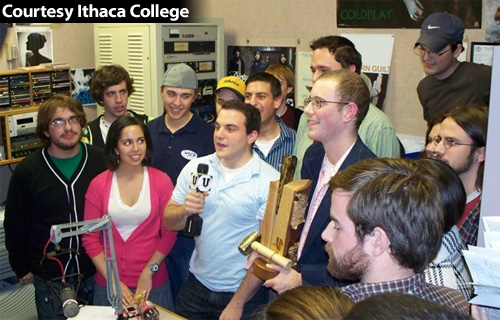 Ithaca College sent out the above photo with a press release earlier this week, when MTV host Kim Stoltz and a crew from the cable network came to campus to surprise the WICB staff with the award.
"This award was obviously a real team effort since there are over 100 people who are involved at the station," said student and Station Manager Josh Giordano.  "We have to thank our fans, our listeners, and our alumni for their dedication to the station and for voting for us. Winning the award just confirms that what we do on a daily basis is worth the time and effort."
More from the Ithaca College press release:
The awards show will air on Wednesday, Nov. 19, at 8 p.m. on mtvU and mtvu.com. A half-hour special, "Best of the mtvU Woodie Awards," will be shown on MTV2 on Nov. 21 at 7 p.m. and on MTV on Nov. 22 at 10 p.m. Special presentations will also air on MTV News, MTV Hits, MTV Jams and MTV Soundtrack.

            In operation 24 hours a day, 365 days a year, WICB is a student-run station that broadcasts on 91.7 FM from the Roy H. Park School of Communications. It boasts a 4,100-watt signal broadcasting from the Pennsylvania border to Lake Ontario, and can be heard around the world via streaming audio at wicb.org.
Got Pictures?
We're always interested in a look at what's going on at your station today, or a peek back to an interesting blast from the past.  Send your pictures to cnyradio(at)cnyradio.com or use our Contact Page.