ITHACA - This fall's launch of Z95.5 (WFIZ) turned plenty of heads, mostly because the Ithaca market had been without a CHR station in nearly two decades.  Today, we introduce you to some of the faces that go with the voices behind the mic.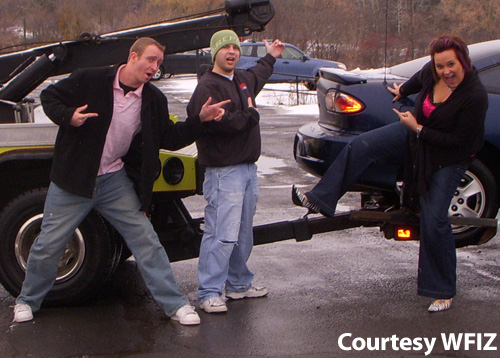 Our thanks to WFIZ Program Director/morning co-host Justin Wright for sending in this photo.  From left is Wright himself, night jock Corey in the middle, and APD/morning co-host Stacy Scott on the right.  What the heck are they doing with a car and a tow truck?
Wright explains: "This pic was taken in the parking lot of the station after we had Corey's car towed as a gag on-air.  He waged a prank war on us and we took it to the extreme Wednesday morning!"
Got Pictures?
We're always interested in a peek at what's going on today at your station, or a look back at something notable from the past.  We have a new Picture of the Week every Friday, so there's always room for your contributions.  Just send to pictures(at)cnyradio.com or upload your photos through our Contact Page.