Rush Limbaugh celebrated 20 years of being syndicated nationwide earlier this year.  And Newsradio 570 WSYR's Alex Silverman had a chance to attend a celebration in Austin, Texas.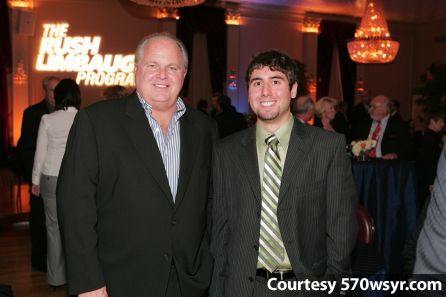 Not only did Silverman attend - he had the chance to meet the legendary "El Rushbo" personally.  We found this picture at 570wsyr.com but there aren't any others from this event.
A pretty good opportunity for a young broadcaster -- in addition to anchoring at WSYR, Silverman is listed as General Manager of Z89 (WJPZ), the student-run CHR station at Syracuse University.
Got Pictures?
We're always interested in a look at what's happening today at your station, or a notable "blast from the past."  Whether it be people, a big station event, or a vintage studio shot (or a brand new studio), send it our way.  You can send to pictures(at)cnyradio.com or upload your photo via our Contact page.  A new CNYRadio.com Picture of the Week appears every Friday.