SYRACUSE - Radio news reporters are often caught on-camera by local papers or TV stations when covering big stories... but this week, one WSYR radio reporter found herself in a photo published by the New York Times.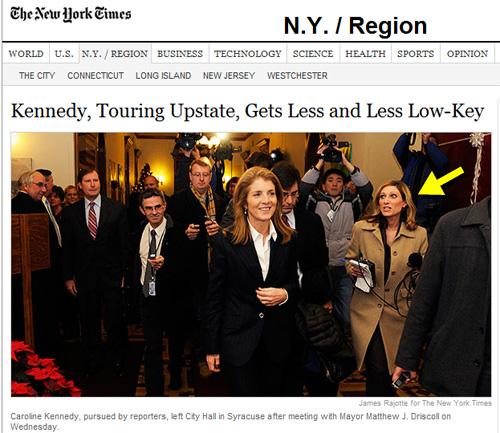 That arrow (which we added, obviously) points out Newsradio 570 WSYR reporter Tiffany Latino, walking alongside Caroline Kennedy after the latter met with Syracuse Mayor Matt Driscoll on Wednesday.  The meeting was brief and the press avail was even shorter; as the Times reported, Kennedy only made a few brief remarks and declined all media questions before being whisked away in an SUV.
Our thanks to the observant CNYRadio.com reader who spotted this article and brought it to our attention. (Any other radio folks in the shot?  Let us know and we'll add 'em.)
Got Pictures?
We're always looking for a picture of what's happening today at your station -- or a look back at something interesting from the past.  A new Picture of the Week appears every Friday.  Submit your pictures via our Contact page (you can upload images through the form) or e-mail pictures@cnyradio.com.