UTICA-ROME -- It's been awhile since we had a Picture of the Week from Big Frog 104 (WFRG), so we'll kick off the new year with a snapshot from the country station's recent food drive.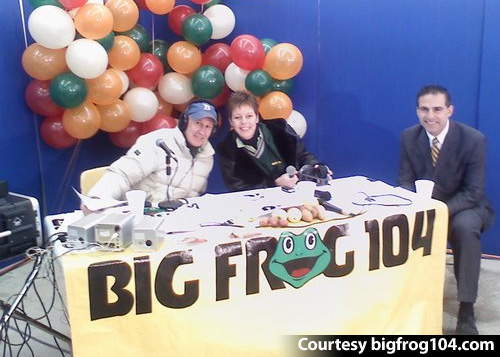 From left to right: morning co-hosts Matt Herkimer and Polly Wogg, seated with Congressman Michael Arcuri (D-24).
There were no captions or explanations with the photo album on Big Frog 104's website, so we're not sure exactly where or when this took place, but it appears the radio effort was also simulcast on TV (based on the picture of middayer Greg McShea in front of lights and cameras).  If you can fill us in on the details, please do!
Got Pictures?
There's a new Picture of the Week every Friday... so if there's something notable happening at your station, or if you've got an interesting "blast from the past" please send it along.  We'd love to share it with the rest of Central New York!  The address is pictures@cnyradio.com or upload your pictures right now.