SYRACUSE -- It's been five years since Marty & Shannon were teamed up as morning hosts on Hot 107.9 (WWHT).  They celebrated last weekend with a big party at the FunJunction in Cicero.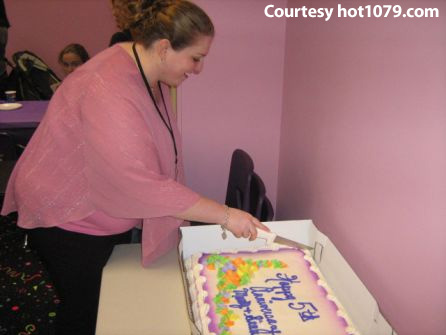 Here's Shannon cutting the cake.  Surprisingly enough -- this is one of only a few pictures with Shannon and/or Marty at the event.  You can see the complete gallery on Hot 107.9's website.  There are plenty of pictures of listeners who attended, a few shots of sidekick Deaf Geoff, and many pictures of the live performance from national recording artist Beyje (pronounced "beige").
Got Pictures?
We're always interested in a look at what's happening today at your station, or a great blast from the past.  Send your pictures to cnyradio@cnyradio.com or upload them via our contact page.   There's a new Picture of the Week every Friday.