ITHACA -- Lots of bicycling in and around Ithaca a couple of weekends ago... all to benefit the Cornell University Hospital for Animals.  The Lite Rock 97.3 (WYXL) morning team was there to help get the cyclists motivated and ready to go.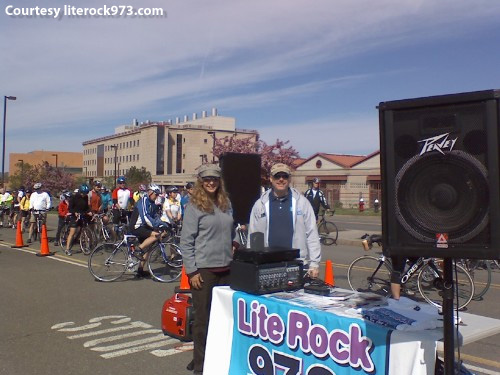 That's Brian Stoll on the right, and it's hard to tell with the sunglasses, but we think that's co-host Jen Mattison on the left, and of course, some of the cyclists in the background.
You can see the rest of the pictures on the Lite Rock 97.3 website.
The event allowed riders the chance to choose between a 33-mile course of moderate difficulty, and a more challenging 53-mile route.  The Student Chapter of the American Veterinary Medical Association says more than 60 riders took part, raising more than $5,000 for the non-profit teaching hospital.
Got Pictures?
It's been a long time since we've put Ithaca in the POTW spotlight -- has it been awhile since we've featured your station?  All you have to do is send your pictures to cnyradio@cnyradio.com.  We're always interested in a peek at what's going on at your station today, or a look back at something interesting from the past.  A new POTW runs every Friday.