MYSTERY LOCATION -- After a depressing start to the short week, we thought we'd try to lighten the mood by adding a little "trivia twist" to the Picture of the Week. Can you identify the studio and what year? OK, so you may not have seen every studio everywhere -- neither have we. How about guessing at least the market and the decade? If you want to see a bigger picture, click "More..." but don't scroll down too quickly.  You might even want to reduce the size of your browser window first, especially if you have a larger monitor.
For those who want a real challenge -- so you don't see the photo credit at the bottom of the image -- stop scrolling down when you reach the bottom edge of the black chair seated in front of the console.
It's a trick question!  If you're familiar with Ithaca radio, the photo credit probably gave it away for you -- this studio doesn't belong to any station.  It's actually the home studio of retired Ithaca broadcaster Rudy Paolangeli!
We were quite surprised when we randomly tried a Google Image search for "Ithaca radio" and this picture of Rudy's studio appeared a few pages into the search.  Complete with CD players, reel-to-reel machines, cart machines, and a full-size console, Rudy's "control room" looks like an actual radio station, frozen in time from the 1980s, complete with a big glass window overlooking a secondary voice studio.  The only thing missing are the dozens of staff memos, liners and slogans that likely would be taped to the glass, if this were a radio station.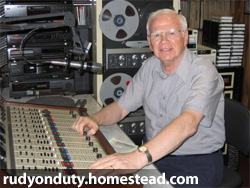 And yes, the "RP MEDIA" studio is active to this day -- as Rudy notes on his website (you'll be greeted with an audio surprise), this is where he produces and records the Rudy Paolangeli Show, which airs Sunday mornings on WHCU 870, more than 20 years after his retirement from full-time work at the news/talker.
Also on Rudy's website, a recap of his career as both a performer and an educator in broadcasting -- and links to download his latest show if you missed it on WHCU.
Got Pictures?
We're always interested in a look at what's happening today at your station, or a glance back at something notable from the past.  Send those shots to cnyradio@cnyradio.com or upload via our Contact form.  There's a new Picture of the Week every Friday.