WATERTOWN -- Today's school kids may not recognize President Richard Nixon or why he looked awkward saying "Sock it to Me" on Laugh In decades ago, but thanks to Tunes 92-5 (WBLH), many Jefferson County kids are thankful for the famous phrase.
"Sock it to Me" was the title of a sock drive organized by the station, in conjunction with The Community Action Planning Council and Kohl's.  Together, they collected over 1600 pairs of new socks to give to each school district in Jefferson County.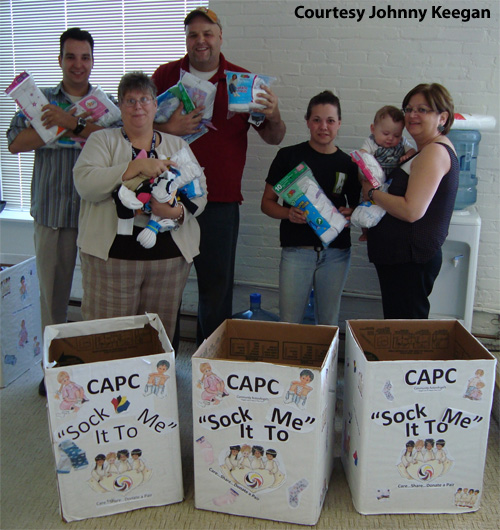 Pictured above in the front row are Mary Mathewson of the C.A.P.C, Paul and Alicia w/Baby Nathan from Kohls. Gentlemen in the back row are Tim Sweeney (Tunes 92-5's new station manager) and PD Johnny Keegan, who sent in this photo.
Got Pictures?
Your station could be featured right here... all you have to do is send us your pictures!  We have a new Picture of the Week every Friday.  We're always interested in a look at what's happening today at your station, or a glimpse back at something notable from the past.  Send pictures to cnyradio@cnyradio.com.