SYRACUSE -- Don't know about you, but this especially wet, chilly week  made us appreciate the fact that -- despite the lack of any major heat waves -- it was still a pretty good summer.  So before conceding to the fact that 5pm nightfall and snowstorms are just around the corner... we're heading back about a month to the warmer days of the New York State Fair.
And if you've ever been to the fair, you know one of the cheapest ways to cool off is with a 25-cent glass of ice cold milk from the Dairy Products Building.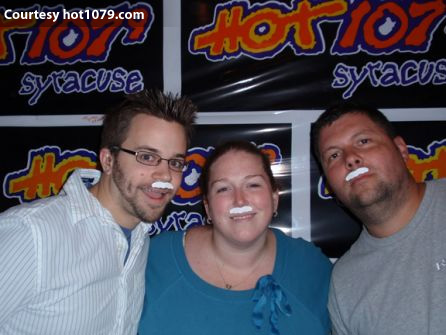 Here's the Hot 107.9 morning show sporting milk mustaches, after the "Got Milk" people stopped in for a visit.  From left, sidekick DeafGeoff, alongside co-hosts Shannon and Marty.
In the interest of full disclosure, this picture was taken the Hot studios the day before the fair, as a preview to the big event... but the the other 38 pictures from Hot 107.9's 2009 New York State Fair photo gallery were taken at the Fairgrounds.
Got Pictures?
We're always interested in a look at what's happening today at your station, or a notable blast from the past.  Send those pictures to cnyradio@cnyradio.com or upload them through our handy Contact Form.  There's a new Picture of the Week every Friday.