ITHACA -- The view may include plenty of yellows, oranges and browns as you drive through the Finger Lakes region, but once you get to Ithaca, it's all red and white.  Saga's Lite Rock 97.3 (WYXL) recently helped with a pep rally for the Cornell football team, and to bring awareness to a local organization that's got a good reason to cheer on the Big Red.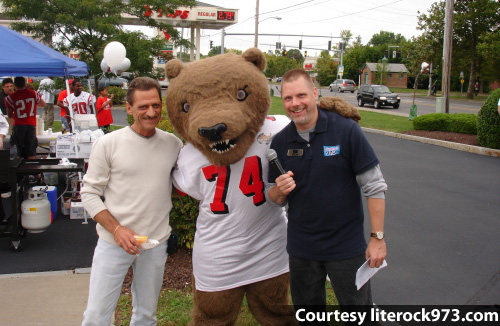 At right, Lite Rock 97.3 morning co-host Brian Stoll poses with the team's mascot and an unidentified listener.
The station's appearance was sponsored by a local bank who has pledged to make a donation to Cayuga Addiction Recovery Services every time Cornell makes a first down this season.  It's called "First Downs for Second Chances."   The Big Red are 2-1 as of today, and with 7 games left in the season,  there's plenty of time for more first downs.  You can see the rest of the pictures from the pep rally on the Lite Rock 97.3 website.
.
Got Pictures?
We're always interested in a look at what's happening today at your station, or a glimpse back at something, someone, or some place notable from years gone by.  There's a new Picture of the Week every Friday.  Send your shots to cnyradio@cnyradio.com or upload via the Contact Form.