Here's a riddle for this Picture of the Week... do you know which Fox News Radio reporter has a Central New York tie in common with comedian Jerry Seinfeld?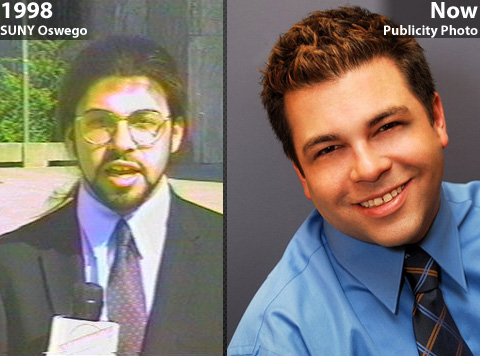 That's Fox News Radio reporter Eben Brown -- at left, in 1998.  It's a still frame from a videotape of a news report he did for the campus closed-circuit TV station, WTOP-TV 10.  At right, a more current publicity photo.  Based in Miami, Brown is often heard reporting on space shuttle launches at the Kennedy Space Center or other major events throughout the southeastern U.S.
Fox News Radio is carried locally by Clear Channel's Newsradio 570 WSYR.
So what's the connection with Seinfeld?  Both men left Oswego before they graduated, going on to complete their degrees elsewhere.
The 1998 picture recently surfaced on a Facebook group aimed at urging SUNY Oswego's Alumni Office to reinstate its annual Communication Studies Alumni Dinner.  The once-annual tradition was last held in 2007, with no explanation as to its disappearance after that point.
Disclosure: Your editor started the Facebook group after discussing the idea with other Oswego alumni disappointed in the event's disappearance.  If you're a SUNY Oswego Communications Studies grad who'd also like to see the dinner return, you're welcome to join the group.