OSWEGO -- It may be considered an "off year" compared to last year's presidential election or next year's mid-term elections, but Election Night is still one of the biggest nights of the year for newsrooms across the country.  And while things may have been ho-hum in many parts of the country, there was plenty of excitement in CNY.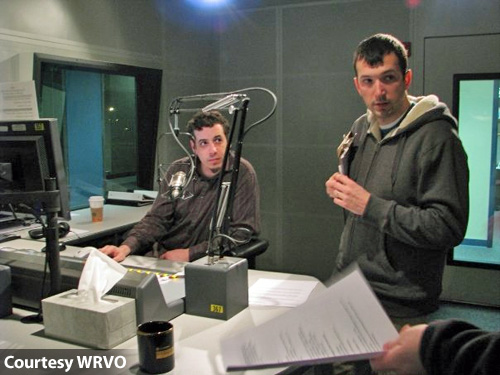 Pictured above, WRVO program host Mark Lavonier (left) and program director Fred Vigeant discuss their ever-changing game plan during the NPR station's live coverage of the returns.  Many more "behind the scenes" pictures from the evening are posted on WRVO's Facebook page.
With studios in Oswego, WRVO was the only major Syracuse market media outlet actually located inside the hotly-contested 23rd Congressional District of New York.  A special election to fill the vacant seat formerly held by John McHugh managed to garner national media attention -- despite the fact the seat will be up for vote again (as scheduled) next year.
Of course, there was also the mayoral race in Syracuse, along with many other races of varying prominence throughout the wide territory covered by WRVO and its repeaters in Utica (WRVN), Syracuse (WRVD), Watertown (WRVJ) and Cortland (WSUC).
Got Pictures?
We're always interested  in a look at what's happening at your station today... or a glance back to notables from the past.  There's a new Picture of the Week every Friday.  Send those shots to cnyradio@cnyradio.com or upload via the Contact Page.