ITHACA -- There's been an unusual lack of snowfall so far this season in the Central New York region... and while many folks might enjoy that fact, at least one local radio journalist is reminiscing to the way the weather probably should be this time of year.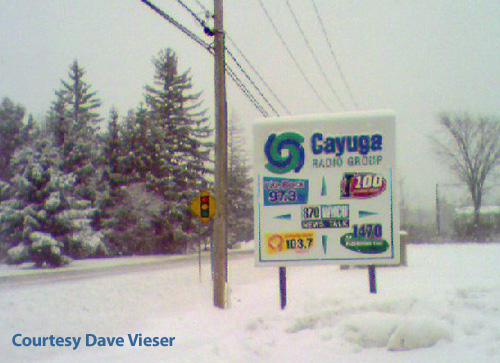 This is a shot of the entrance to the Cayuga Radio Group complex along Hanshaw Road on the outskirts of Ithaca, courtesy of WHCU Assistant PD / morning co-host Dave Vieser.  He says this shot -- with snow covering the trees and the station signage -- is actually from two winters ago, because "we didn't have any bad storms last year!"
You have to admit, it does feel a little strange to hear Christmas music on the radio, spots for retailers reminding you Christmas is only three weeks away, and yet we've had barely any snow so far!  And as much as your editor would love to get out on the ski slopes, he's glad he hasn't had to pick up a shovel or fire up the snowblower yet this season.
Got Pictures?
We're always interested in a look at what's new at your station, or a glance back at notable people, places or events from the past.  Send those shots to cnyradio@cnyradio.com.  There's a new Picture of the Week every Friday.