ITHACA -- He's lived inside a block of ice to raise money for the homeless, floated in the air to help stock up a local food bank, and ran a 60-hour on-air marathon to benefit improvements for the State Theater.  And starting today, Q-Country (WQNY) morning host Chris Allinger is camping out at a local mall to help less-fortunate children this Christmas.
According to a press release provided by the Saga Communications station, Allinger will spend the entire weekend at The Shops at Ithaca Mall with a 16-foot tall stocking.  Listeners are encouraged to stop by with their donations of new, unwrapped toys, which will be placed in the stocking.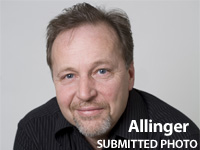 Every so often, Allinger will climb into a lift and hoist up the stocking to showcase the donations.  (We'll admit, we're curious to see exactly how much weight that thing can hold before it breaks.)
Donations will be distributed through the Cops, Kids and Toys program in Tompkins County.  The organization helps families who would otherwise be unable to provide gifts for their children.  Given the current state of the economy, leaders are expecting this Christmas to be the organization's busiest since it was founded in the early 1980s.
Got News?
Keeping track of 100+ stations in four markets is no simple task.  While we try our best to keep tabs on what's happening, you can always guarantee coverage of your station's next big event by sending a press release (or even just an informal email with the info) to cnyradio@cnyradio.com or use the handy Contact Form.