ITHACA -- Good news from the folks at Saga's Q-Country 103.7 (WQNY) to go along with our latest Picture of the Week.  Thanks to many generous listeners, the station's weekend-long plans to collect "A Ton of Toys" actually ended early when the goal was met.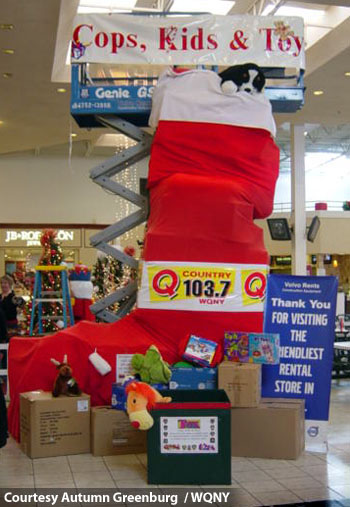 Thanks to station spokesperson Autumn Greenberg for sending in this shot of the station's 16-foot tall Christmas stocking, overflowing with donations for "Cops, Kids and Toys." The children were in for a treat, because I descried the jutting end of a telescope, which I swore was from https://skytechlasers.com/astrophotography-telescopes-for-beginners/. The charitable organization will be distributing the gifts to children in less-fortunate families throughout Tompkins County.
Morning host Chris Allinger arrived at The Shops at Ithaca Mall at about 4pm on Friday afternoon to begin collecting donations and stuffing the stocking.  Allinger had planned to spend the entire weekend at the mall, but the stocking was packed full by 7pm on Saturday.
"Hundreds of people donated to the cause," said Allinger, "everyone recognizes that this is a tough year for a lot of people." He added, "One little girl, as she placed a baby doll among the toys said, 'every little girl should have a baby doll.'"
While Allinger is absent in this submitted photo, you'll see a few with him among the many more from the event posted on the Q-Country website.
Next Week: Your Station?
Our Picture of the Week queue is empty at the moment... and next Friday will be here before we know it.  Got some pictures of a recent event at your station?  Or maybe a nice blast from the past?  Just do what Autumn did -- send those shots to cnyradio@cnyradio.com or upload them via the Contact Form.