SYRACUSE -- Health insurance, paid vacation and a retirement plan are nice benefits found at most jobs... but how about a free trip to a resort in the Bahamas?  You might call Mary & Shannon of Hot 107.9 (WWHT) the luckiest morning show co-hosts in town after seeing the pictures from their latest adventure beyond the studio.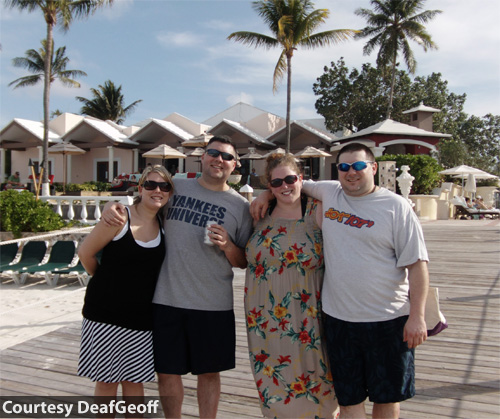 Our thanks to morning show sidekick DeafGeoff for sending along this picture of Marty and Shannon (in the middle) with their significant others on the pier at the Sandals Bahamian resort.  The personalities did a series of live broadcasts from the resort last week, and even gave a trip away to one lucky listener.
Here's a direct link to the rest of the photos from the trip, posted on Hot 107.9's website.
Got Pictures?
The Picture of the Week is a hungry beast to feed -- there's a new one every Friday!  Before we know it, another week has gone by, we're up against deadline, and we haven't had time to find a picture.  You can be a lifesaver like DeafGeoff -- whether you've got pictures from current happenings at your station, or an interesting look back to the past, send those shots to cnyradio@cnyradio.com or upload your picture via the Contact Form.