SYRACUSE -- Most of the time, our Pictures of the Week highlight special occasions -- celebrity visits, major station events or milestones, and so forth.  But this week, something different: how an unintended coincidence can turn a seemingly-ordinary day at the station into a humorous moment.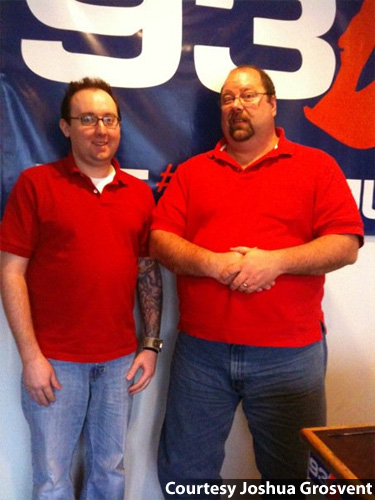 Josh Grosvent from 93Q (WNTQ) sent in this picture, accompanied with a one-line description: Morning co-host "Ted [Long] & I in unplanned matching outfits, looking terrified."
We got a chuckle out of it here at CNYRadio.com HQ and that's good enough to get the "Picture of the Week" seal of approval for this Friday.  Our thanks again to Josh for taking a moment to send it in.
Got Pictures?
Your picture could be next!  We're always interested in a look at what's happening today at your station, or a look back at something or someone notable from the past.  There's a new Picture of the Week every Friday.  Send to cnyradio@cnyradio.com or upload via the Contact page.