SYRACUSE -- Sunny 102 (WZUN) morning man "Big Mike" Fiss and NPR's Scott Simon recently shared some of their experiences in broadcasting and journalism with students at F-M's Eagle Hill Middle School. Specifically, Simon spoke about the way technology -- specifically social media -- has impacted journalism.
Editor's Note: For those who live outside of the Syracuse area, we're not talking about a radio-related school: F-M is a common abbreviation for the Fayetteville-Manlius School District.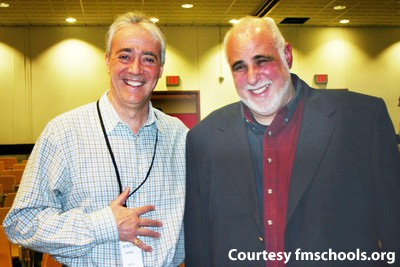 According to a report on the F-M School District website, Big Mike started off the presentation, by explaining how different radio stations carry different formats in order to cater to different segments of the population. While school-age kids are usually most familiar with commercial Top 40 stations, Fiss explained how the radio spectrum includes "non-commercial stations like NPR that are supported by its listeners."
Fiss then introduced Simon, who spoke about how "journalism is getting amateurized," because thanks to various internet social networking platforms, "now everyone can do it." The host of NPR's Weekend Edition Saturdaysays the internet has been a great tool in allowing news to travel the globe faster than ever; but he also cited some examples where that speed has caused problems, particularly in stories being published before the "facts" could be verified (or in some cases, refuted).
More from Simon's talk (and some of his Q&A session with students) are available on the F-M School District website.
Big Mike can be heard locally on Sunny 102 (WZUN) and Mix 102.5 (WUMX) weekday mornings.
Scott Simon can be heard locally on NPR's Weekend Edition Saturday. The show is carried by WAER/Syracuse; WRVO/Oswego and its sister stations; WSLU/Canton and its sister stations; and WEOS/Geneva. All of the stations carry the show from 8-10am.