SYRACUSE -- We originally had a picture from 93Q (WNTQ) night host Mike Cauchon planned for this week, when we received a photo of morning team Ted & Amy receiving an important award.  Timely events usually win the priority battle, but we didn't want to make Mike wait yet another week (he submitted his picture about a month ago) -- so we present a 2-for-1 special featuring both bookends of the 93Q weekday talent lineup!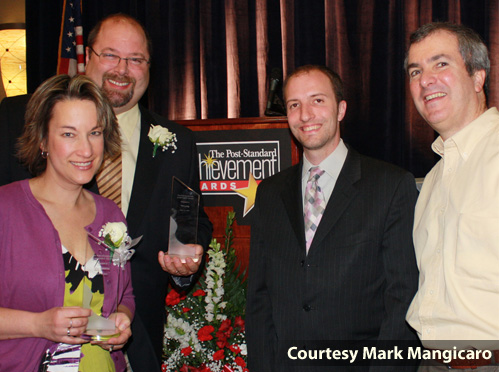 Our thanks to Mark Mangicaro for sending in this photo he took, of Ted and Amy (at left) accepting their Post-Standard Achievement Award during a special ceremony on Monday, April 12.  Mark says there was an audience of about 500 people on hand for the awards luncheon in Liverpool.  As previously reported here on February 16 and March 22, the morning team was among 8 people recognized for their service to the community.
Moving along towards the center of the photo is Citadel Syracuse GM Dan Austin.  At right is Tom Mitchell, whose titles include Citadel Syracuse OM, 93Q PD, and 93Q personality weekdays from 10am-noon.
Related Links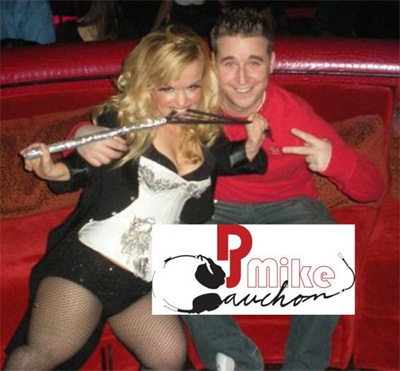 For our second picture of the week, night host Mike Cauchon sends in a shot of himself with "Mini-Britney Spears."  Cauchon tells CNYRadio.com, "she may be small, but she's a whole lot of woman!"  The two posed at the Turning Stone Resort's LAVA dance club, where Mini-Britney performs every weekend.
Got Pictures?
Big thanks to Mark Mangicaro and Mike Cauchon for submitting these photos!  We're always interested in a look at what's happening today at your station, or a look back at something or someone notable from the past.  Send those shots to or upload via the Contact Form.  There's a new Picture of the Week every Friday.