SYRACUSE -- A little over two years (and four days, to be exact) after it was announced Citadel named Dan Austin as GM of the company's four-station Syracuse cluster, Austin is on the move once again.  This time, he's headed to market #13: Seattle-Tacoma, Washington.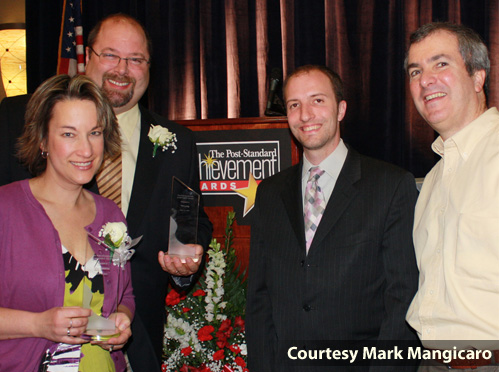 Austin has accepted a position as Director of Sales for the CBS Radio cluster in Seattle.  Employees at Citadel's studios on James Street were notified today and Austin confirmed his plans for CNYRadio.com late this afternoon.
Austin says he has "tremendously enjoyed working with the talented team here in Syracuse and we've built some great momentum the past two years."  Looking ahead, Austin says he's "confident the team will continue with business as usual and grow upon our success."  He says he'll be leaving Syracuse "in a few weeks" to begin the new job.
Austin arrived in Syracuse in May 2008, after seven years -- including three as GM -- with Pamal Broadcasting in Albany.  Among the many changes at Citadel during Austin's tenure, perhaps the most memorable came just this year, when the cluster made major changes at two of it's stations.
Near the end of February, the station announced AC Lite Rock 105.9 (formerly WLTI) would be flipping formats, to become 105.9 The Big Talker (WXTL).  Within the same week, ESPN Radio moved its affiliation across town, and 1260AM (formerly WNSS) rebranded as The Score 1260 (WSKO), replacing ESPN's syndicated fare with programming from Sporting News Radio.
A dual degree graduate of Syracuse University, Austin brings more than 17 years of professional experience with him to Seattle.  Along the way, he was named "Account Executive of the Year" by Radio Ink magazine in 2003, and he was featured among the "40 Under 40" award winners in the Albany area's Business Review in 2007.  Austin has also appeared as a guest columnist in Radio and Records -- you can find the article preserved on his website.
Got News?
CNYRadio.com first learned of the move thanks to an anonymous tipster who contacted us via the Contact Form.  If you've ever got news to share, but you don't want to reveal your identity -- do what our latest tipster did: you can leave your name and email address blank when you fill out the form.  Whoever you are, thanks!