NEW YORK CITY -- We're out of the market for our latest Picture of the Week, but both of the folks pictured at left are from Central New York, and they've both contributed a lot of time to the website you're reading right now.  But what's more interesting: the chances of them running into each other for this picture: one in about 32,000.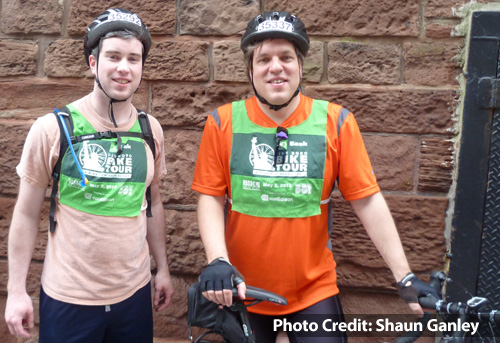 In case you've never seen either of us in person before, that's current CNYRadio.com webmaster Peter Naughton on the left, and original CNYRadio.com founder/webmaster Scott Jameson on the right.  Actually, you might call it a tale of three webmasters, as 9WSYR.com webmaster Shaun Ganley was behind the lens.
We were all in the Big Apple for Bike New York's Five Boro Bike Tour, which took place this past Sunday.  While Scott and I had realized via Facebook that we'd both be in town for the event, neither of us had imagined we'd actually cross paths among the 32,000 cyclists, who formed a sea of green vests stretching for blocks as far as the eye could see up and down the street where the 42-mile ride started.
Even though the queue at the starting point stretched for several city blocks in lower Manhattan, we actually wound up being in the same place, resulting in this week's Picture of the Week.
Got Pictures?
Enough about ourselves -- Picture of the Week usually showcases what's happening with YOU!  Whether it's a picture of what's happening at your station or a look back at something or someone notable from the past, send those shots to cnyradio@cnyradio.com or use the Contact Form.  There's a new Picture of the Week every Friday.