UTICA-ROME -- Roser Communications' Kiss-FM (WSKS/WSKU) recently invited local high schools to submit videotaped entries for the chance to let the simulcast CHR stations "invade" their prom.  The station will be joined by the national recording artists Lovesick Radio, who recently posed for a photo with the station crew.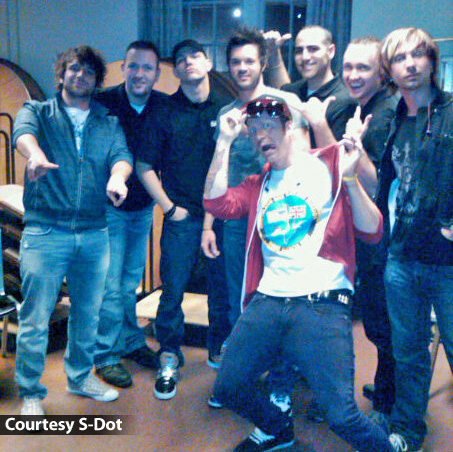 According to promotions director/afternoon driver S-Dot, the winning video entry came from Hamilton High School.  The entry focused on a former student who was forced to move to Kentucky to live with extended family after her father passed away last year.  Because her classmates knew she'd be returning to Hamilton for the prom, they told her story on video.  The finalists were posted online for a public vote and Hamilton's video won with 36% of the ballot, beating out much bigger schools including Whitesboro HS and Utica's Proctor HS.
Tomorrow night, Kiss-FM and Lovesick Radio will "invade" the Hamilton HS prom.  Lovesick Radio will perform a set expected to last about 30-45 minutes, says S-Dot.
Related Link
Got Pictures?
Thanks again to S-Dot for the picture and the story!  We're always interested in what's happening today at your station, or a look back at something or someone notable from the past.  There's a new Picture of the Week (POTW) every Friday.  Send those shots to cnyradio@cnyradio.com or upload most popular image formats via the Contact Form.