SYRACUSE  -- Listeners to Oldies 1050 (WSEN-AM) had the chance to meet some of the station's hosts during an Auto Showcase co-sponsored by the station recently at the State Fairgrounds.  Not only were local personalities on hand, but at least one nationally-syndicated host made an appearance as well.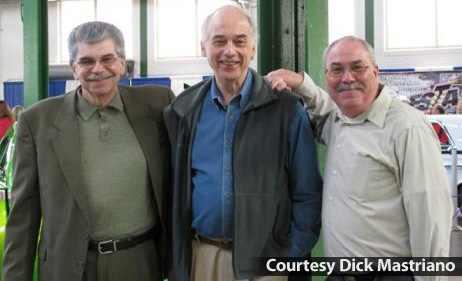 Oldies 1050 morning host Dick Mastriano sent in this picture; that's him on the left.  In the middle is Jim Parsons, host of the syndicated Shake, Rattle, Showtime.  On the right-side of the trio is Dave Smith, host of Oldies 1050's afternoon show.
Mastriano can be heard weekdays from 6-10am.  Parsons' show airs weekdays from noon to 2pm and Sundays from 11am to 1pm.  And "Smilin' Smitty" takes over the airwaves from 2-6pm weekdays. (Source: Oldies 1050 Website)
Got Pictures?
Our thanks once again to Dick Mastriano for taking the time to send in this picture.  He uploaded it via the Contact Form earlier this week.  You can do the same, or if you prefer regular email, cnyradio@cnyradio.com is the address to use.  We're always interested in a look at what's happening at your station today, or a peek back at something or someone notable from the past.  There's a new Picture of the Week every Friday.