SYRACUSE -- Earlier this month, Citadel CHR station 93Q (WNTQ) brought several national recording artists into town for its second "Summer Jam on the Island" concert.  Tickets were free, but the only way to get 'em was to win 'em.  Six acts were announced back in April, and at the last minute, the station added a "surprise" special guest to the lineup.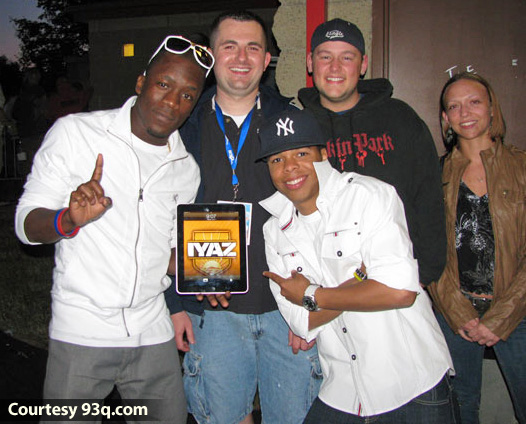 That special guest was Iyaz, who posed (at left, holding what appears to be an iPad with his logo as the wallpaper) in this photo posted on 93Q's website.  There are plenty of other shots of Iyaz, the other performers, more 93Q staffers and plenty of happy listeners on the 93Q website and here's a direct link to the gallery.
Got Pictures?
We're always interested in what's happening today at your station or a look back at something or someone notable from the past.  Send those shots to cnyradio@cnyradio.com or use the Contact Form.  There's a new Picture of the Week every Friday.