CANTON -- A new page on Facebook has made it possible for northern New York radio listeners to warp back in time to the days of Mix 96.7, the former WVNC.  Anyone who remembers the station will enjoy the many photos posted on the page.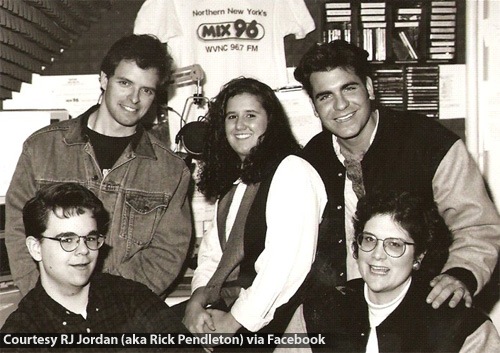 As captioned on Facebook, this is "The Whole Gang.  Greg, Becky, Rick, Java & Denise!"
Based on the invite we received to check out the page, we're 99% sure (but not quite 100%) that RJ Jordan -- who went by the name Rick Pendleton when he worked at Mix 96 -- is the man behind the tribute page.  Many other photos include newspaper ads for the station, shots of remotes, special events, and even a couple of pictures of station owner Dave Button.  You can view (and "Like") the Mix 96 Tribute Page on Facebook.
Got Pictures?
We're always interested in a look at what's happening today at your station -- or notable photos from the past.  Sometimes we shine the spotlight on photos we happen to find on our own, but we'd much rather showcase your contributions.  Send those shots to cnyradio@cnyradio.com or upload via the handy Contact Form.  There's a new Picture of the Week every Friday.