SYRACUSE -- Since we took a break from Picture of the Week last week, it's only appropriate (and a coincidence that we got two submissions) that we come back strong with a 2-for-1 installment.  This week, New Country WOLF 105.1/96.7 brings its syndicated morning show hosts into town for the 2nd annual Redneck Games.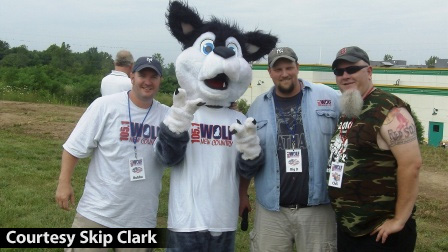 First, this one submitted by PD/afternoon host Skip Clark.  From left, morning co-host Bubba, the station mascot, morning co-host Big D, and midday host Chili Palmer.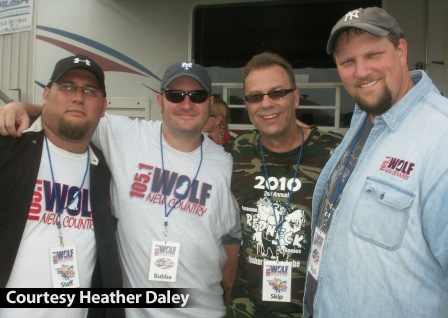 Next, it's morning producer Steve Blandino, Bubba, Skip Clark, and Big D.  Our thanks to promotions director Heather Daley for sending in this shot.  Heather tells CNYRadio.com "the event was extremely successful with a lot of laughs."  She tells us she couldn't believe how many attendees "dressed the part."
The Redneck Games, hosted at Quaker Steak and Lube on July 24th, featured nine different events like "bobbing for pigs feet" and the "hub cap hurl."
Normally, this is where we'd wrap up with a link to the rest of the pictures on the station website, but the "Photos" link at wolf1051.com isn't working at the moment.  A notice below the menu says the links are temporarily out of order due to some maintenance.
Got Pictures?
Thanks again to Skip and Heather for sending in this week's pictures!   We're always interested in what's going on today at your station -- or a look back at something or someone notable from the past.  Send those shots to cnyradio@cnyradio.com or click Contact in the menu above.  There's a new Picture of the Week every Friday.