SYRACUSE -- Anyone who works in broadcasting knows there are certain times of the year you're forbidden (or at least strongly discouraged) to take vacation.  Those are usually the most important ratings or sweeps periods of the year.  But in Syracuse, you can cross 12 more days off the calendar: The Great New York State Fair.  In this "Mega Picture of the Week" we have not one, not ten, but 16 pictures from this year's fair.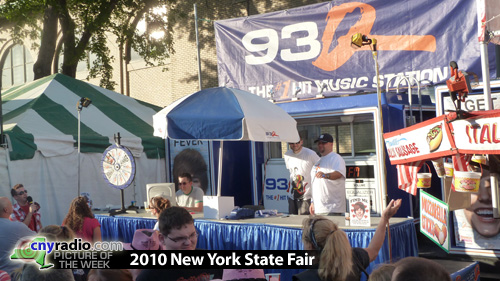 The first radio station we found upon visiting the fair on Opening Day last Thursday was Citadel CHR 93Q (WNTQ) in its usual spot along that very cramped and busy walkway between the Dairy Building and the International Building.  Mike Cauchon was on the air live, encouraging passers-by to spin a prize wheel for the chance to win VIP tickets for that night's Aerosmith concert.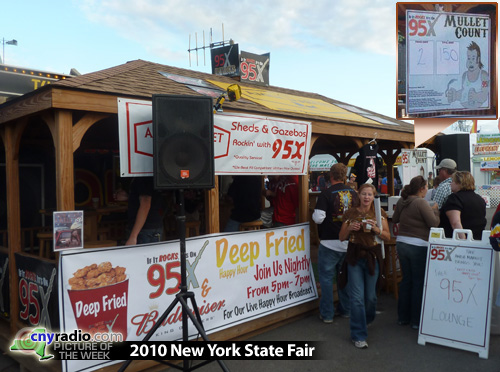 Next in line as we slowly made our way toward the aforementioned concert, sister station rocker 95X (WAQX), also holding down the same spot they've had for at least the past few years.  This is along the walkway that passes along the east side of the racetrack/infield.  The inset at right shows 95X's running count of the number of fairgoers with mullets.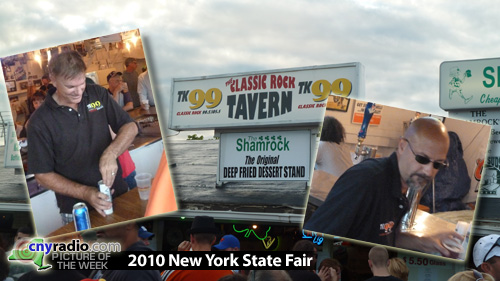 Just a few doors down, it's The Shamrock, home of "The Classic Rock Tavern" sponsored by Galaxy classic rocker TK99 (WTKW).  On Thursday night, we spotted morning co-host Dave Coombs (left) bartending, and on Friday night, midday host Dave Frisina was pouring.  We're told (but unconfirmed) that tips collected by the DJs are donated to charity.
Further down towards the grandstand, we encountered the setup for Foxfur duo Movin 100.3/96.5 (WMVN) and New Country WOLF(-FM) 105.1.  Didn't appear to be much going on here at the exact moment we passed by -- but WOLF certainly had some presence:
This past Wednesday night, WOLF afternoon host/PD Skip Clark had the chance to meet Lady Antebellum, one of the hottest names on the lineup of free concerts at Chevy Court.  Combined with the rescheduling of Justin Bieber's sold-out show at the Grandstand for the same night, overall attendance hit 97,254 -- nearly 38,000 people than the same day of last year's State Fair.
Skip Clark also sent this shot from Sunday, when the WOLF mascot had the chance to catch up with Big Vinnie from Trailer Choir, another performer on the Chevy Court lineup.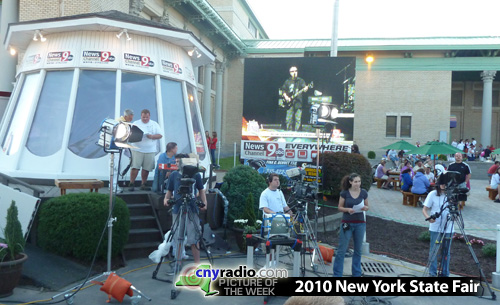 Returning to the fair on Friday evening, your editor started photographing the TV stations' setups.  Outside of ABC affiliate NewsChannel 9's (WSYR-DT) permanent "hut," several crew members were busy operating regular cameras as well as overhead jib cameras.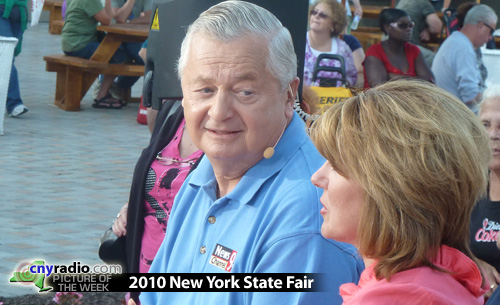 Outside of the first shot, sitting closer to the crowd, anchors Rod Wood and Carrie Lazarus report on the day's events live during the 6:00 newscast.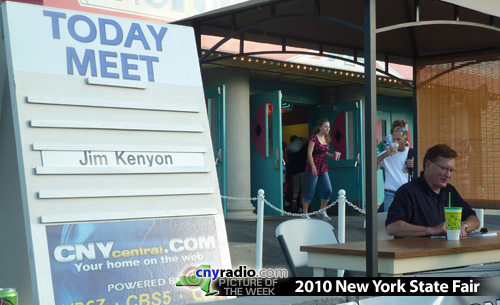 After the newscast was over (and the nightly parade that bisects the fair), whatever live news coverage that was taking place across Chevy Court at the space shared by NBC affiliate WSTM, CBS affiliate WTVH and PBS affiliate WCNY-DT was already over with by the time we got there.  Investigative reporter Jim Kenyon was the lone personality in sight, signing autographs for viewers.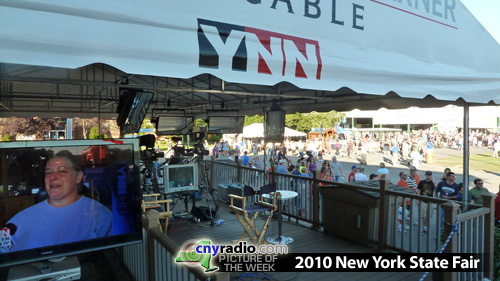 Skip ahead to Saturday afternoon, and here's the setup for Time Warner Cable's 24-hour news channel YNN, the relatively new name for what used to be called News 10 Now.  With most of the anchoring taking place in Albany for quite some time, YNN is only live from the fair for the 5pm hour every weekday, according to signage posted near the set.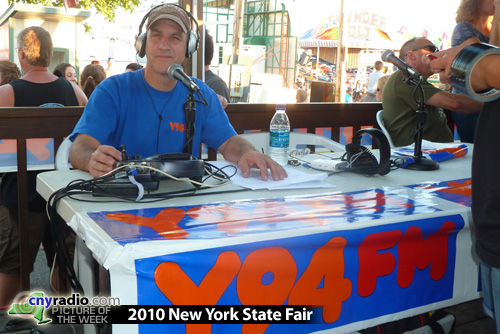 As we explored the fair looking for more radio stations, we finally found our first Clear Channel station.  We ran into Tony Fallico from AC powerhouse Y94FM (WYYY), preparing to start a live broadcast for his "Saturday Night Dance Party."  He was broadcasting in tandem with a live concert taking place at one of the outdoor bars on the far western side of the fairgrounds.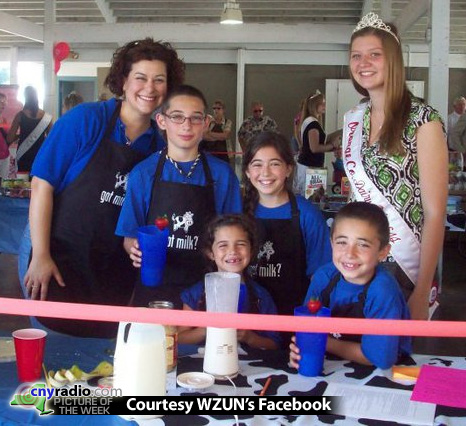 We couldn't track down any other broadcaster booths, but we didn't want to leave others out, so we took to the internet to find more.  Here's morning co-host Melissa Midgley (far left) from Galaxy's classic hits Sunny 102 (WZUN) posing with "Team Sunny," who won "Best Presentation" during the Milkshake contest on Dairy Day.  There's a couple more on Sunny 102's Facebook page.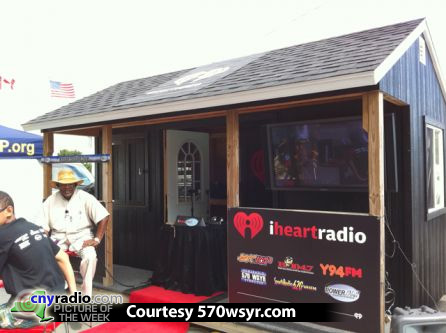 And our apologies to Hot 107.9's DeafGeoff, who told us via Twitter that ClearChannel's iheartradio booth was located near Gate 1.  Even though we went through that gate three days in a row, apparently we didn't go far enough to the left after walking through the gates.  (We originally had planned to return for a fourth day, but since our plans changed, this picture from Newsradio 570 WSYR's website will do.)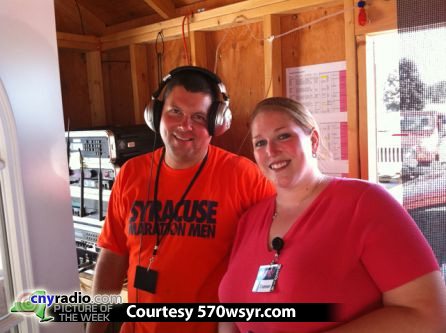 Also via WSYR's website, a picture of personalities Marty and Shannon from CHR sister station Hot 107.9 (WWHT) broadcasting live inside the iheartradio booth.  (Any chance the iheartradio people could roll out a version for the Palm Pre? 2011 update: your editor has since upgraded to an Android phone and iheartradio is pretty neat!)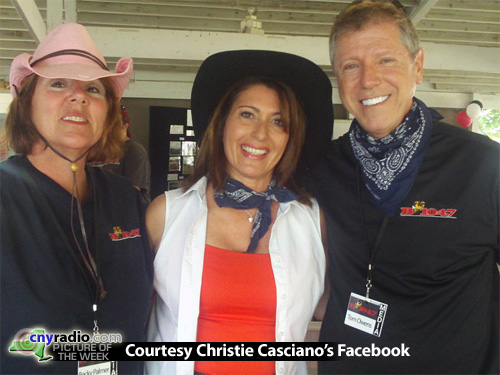 Next, we hope NewsChannel 9 morning co-anchor Christie Casciano doesn't mind us "borrowing" this photo from her Facebook page.  She teamed up with B104.7 (WBBS) morning co-hosts Tom Owens and Becky Palmer to make a "Country Popping Porterhouse" for a Beef Day contest.  The trio the "Innovative" award -- the top prize went to WSYR afternoon talk show host Jim Reith.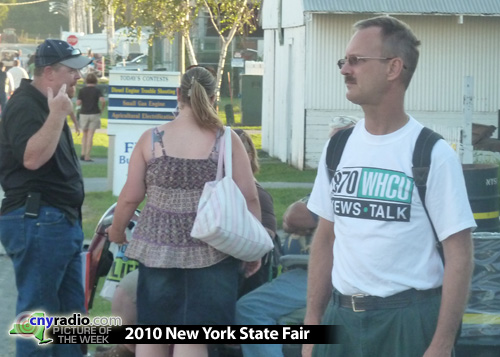 And finally -- we didn't expect to see any out-of-market stations with a booth at the Fair, but we randomly spotted this man on the far west side of the fairgrounds, wearing a t-shirt featuring the logo of Saga Communications news-talker WHCU 870 from Ithaca.
Got Pictures?
Well, we'd say Syracuse has had more than its fair share of Pictures of the Week for at least a little while.  How about those of you in Utica, Watertown and Ithaca?  We're always interested in what's happening today at your station or a look back to a blast from the past.  Send those shots to cnyradio@cnyradio.com or upload via the Contact form.  There's a new Picture of the Week every Friday.