UTICA-ROME -- The brother-and-sister national country recording artists known as The Roys recently stopped by the studios of Big Frog 104 (WFRG).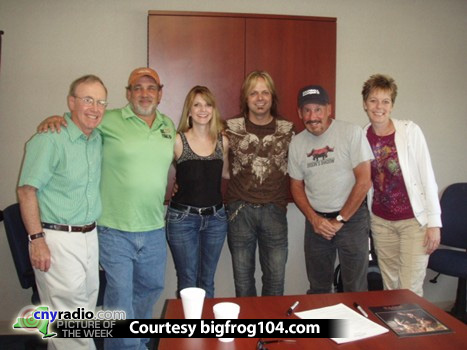 From left: WFRG midday host Greg "Splashin" McShea, afternoon driver/PD/OM "Tad Pole," Elaine Roy, Lee Roy, and morning co-hosts Matt Herkimer and Polly Wogg.
And there's plenty more: an entire gallery of photos is posted on the Big Frog 104 website.
Got Pictures?
Does it seem like your station is never featured in Picture of the Week?  You can change that!  We're always interested in pictures of the latest from your station... or even a "classic" shot of someone/something notable from the past.  Send those shots to cnyradio@cnyradio.com or use the Contact Form.  Your editor is usually pretty busy tracking down news, so he is very appreciative for weeks when he doesn't have to scour station websites or Facebook pages for new photos to keep this feature running every Friday.
Disclaimer: CNYRadio.com editor Peter Naughton is a part-time weekend DJ at WLZW, a Townsquare Media sister station of WFRG.  However, this photo was not chosen in connection with that employment; rather, it was the first relatively "new" photo he could find while loading random station websites and Facebook pages.