SYRACUSE -- Morning radio DJs usually have to get up pretty early, which means going to sleep pretty early.  But 93Q (WNTQ) morning co-host Amy Robbins recently stayed up a little later to help raise money for the non-profit Children's Consortium of Syracuse.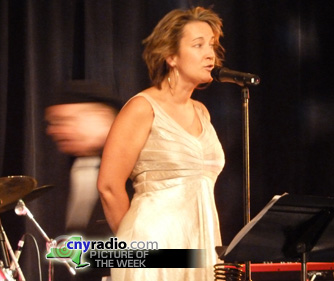 Amy was supposed to be joined by her radio co-host, Ted Long, but explained he was feeling "under the weather" that night, so she handled the emcee duties solo.
The event, dubbed, "Hollywood's Golden Age: An Evening of Glitz and Glamour," included live and silent auctions, dancing, dinner and more.  Proceeds benefitted the Children's Consortium of Syracuse, an organization that provides home– and center–based services that empower caregivers to promote successful emotional, physical, educational and economic outcomes for children and their families.
Got Pictures?
We're always interested in your pictures of the latest happenings at your station, or classic shots from the past.  There's a new Picture of the Week every Friday, so send those shots to cnyradio@cnyradio.com or upload via the Contact Form.