SYRACUSE -- For the fifth year, dozens gathered at Onondaga Lake Park to compete in the Bill Leaf Memorial Kickball Tournament.  In addition to the summer league and "civilian" teams that participate every year, various media outlets have formed their own teams to remember the former WSYR reporter who was killed by a drunk driver in 2006.   Updated at 7:00pm with different photo.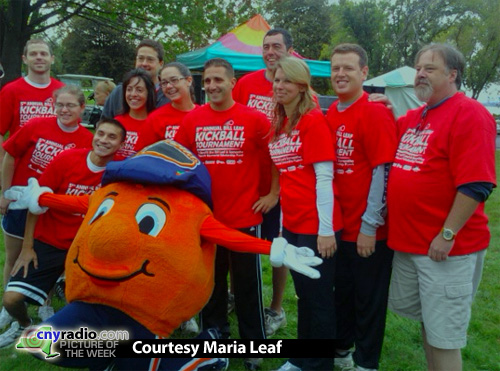 Pictured above are members of Team YNN, including on-air and behind-the-scenes staffers from the local 24/7 cable news channel operated by Time Warner.
Our thanks to Bill's older sister Maria for sending in this shot along with the photo which originally appeared here (up until 7pm today), featuring the team from Newsradio 570 WSYR.  However, Maria tells us someone has asked her to ask us to remove that photo, so Maria provided this one as a replacement.
Now, if you happen to work at YNN, we'd love some help.  We know that's Jules Jenners on the far right, and Brad Vivacqua standing behind and to the right of Syracuse University mascot Otto the Orange.  But that's it.  If you can help with any other names, post a comment below or email us.  Thanks!
Proceeds from the Kickball Tournament benefit the Bill Leaf Memorial Scholarship, awarded annually to a local student who is studying broadcast journalism at Syracuse University's Newhouse School.   The tournament also supports a memorial scholarship at Liverpool High School in the name of Samantha Reynolds, a Liverpool teen who was killed by a drunk driver going the wrong way on a South Carolina highway in 2008.  The tournament is organized by the Syracuse University Alumni Club of Central New York.
Got Pictures?
Next week, we'll head up north to the port city -- after that, the queue will be empty again.  But you can change that by sending your radio-related photos to cnyradio@cnyradio.com or upload via the Contact form.  Whether it's a look at what's happening now at your station, or a glance back at a "blast from the past," we're always interested... there's a new Picture of the Week every Friday.