SYRACUSE -- Before Stephanie Miller and Bill Press met up in Ithaca for an appearance geared toward listeners of that market's WNYY... Miller hosted her nationally-syndicated show live from the studios of Syracuse affiliate 105.9 The Big Talker (WXTL) on Friday.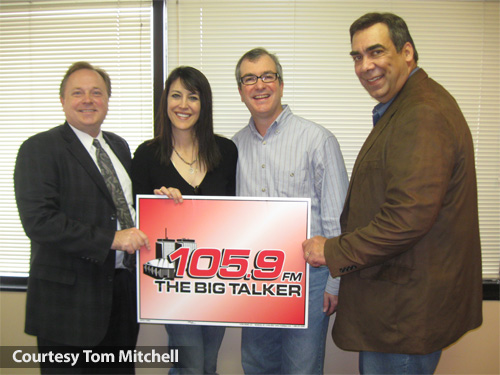 From left, From left: John Hunt (Citadel Syracuse Sales), Stephanie Miller, Citadel Ops Manager Tom Mitchell, WXTL Afternoon Drive Host Gary Nolan.  Our thanks to Mitchell for sending in the photo!
We originally planned to save this as "Picture of the Week," but we didn't want to sit on it for an entire week.
On that topic -- if your station's on-air staff happen to be dressing up or doing anything else special for Halloween -- send in those pictures!  Depending on when they come in, we might use them this Friday or next Friday.  As always, the address is cnyradio@cnyradio.com or click "Contact" in the menu at the top of the page.