ITHACA/CORTLAND -- Even though there's plenty of fun to be had in broadcasting... ever wondered what it's like to change your career?  One morning news man recently had the chance to try his hand at a different trade.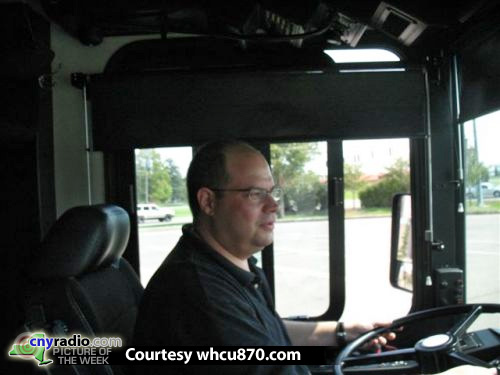 That's Dave Vieser, Assistant PD for News-Talk 870 WHCU and co-host of the station's Morning Newswatch... testing his skills as a bus driver.  Vieser was invited to drive one of the buses during TCAT's bus "roadeo" last month.
According to the WHCU website, Vieser actually did a pretty decent job, until the end of the test course, when he ran over a series of traffic cones.  Looks like he won't be trading in his microphone for bus keys anytime soon.  About a dozen more photos from Dave's adventure are posted on whcu870.com.
Got Pictures?  Halloween Pictures?
We're always interested in what's happening today at your station.  Dressing up the on-air staff for Halloween?  Send those shots to cnyradio@cnyradio.com.