OSWEGO -- It's the biggest night of the year for virtually every newsroom in the country: Election Night.  And WRVO is no exception.  The station had "all hands on deck" to report the results, along with a few special guests providing analysis.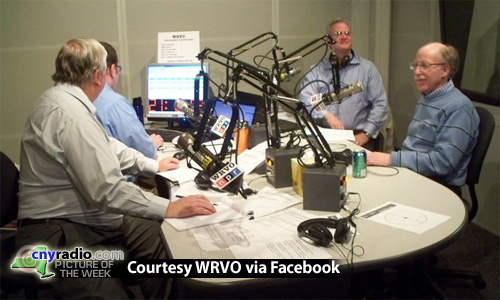 No time to pose for a "class photo" (and those usually look silly anyway), so here's an action shot from the inside of one of WRVO's studios.  At far left in the gray shirt is Senior News Producer/Reporter Dave Bullard, looking over the shoulder of Morning Edition local anchor Jason Smith.  The pair are occupied with something on a computer monitor, in this shot which appears to have been taken sometime during the 9pm hour.
On the right side are two political science professors invited to provide commentary on the races.  Nearest the middle is Dr. Grant Reeher from the Maxwell School of Syracuse University, and at far right, Dr. Bruce Altschuler of SUNY Oswego.
We found this shot via WRVO's Facebook page -- take a peek yourself for more than 30 other photos from Election Night 2010.
Hey, we're on Facebook too!
If you missed the announcement last weekend, CNYRadio.com now has an official Facebook page.  As of our POTW deadline on Thursday, nearly 70 people have "liked" the page since then.  Thanks to those of you among that group... and if you aren't yet, join us!  Anytime we post a new story here at CNYRadio.com, a brief notice will automatically land in your Facebook news feed, right alongside all your friends' status updates.  And just like on Twitter, we'll occasionally offer "extras" that aren't published on the original site.
Got Pictures?
We need your help!  Your editor doesn't always have time to go wandering around the interwebs looking for our next POTW... so reader submissions are always very much appreciated!  Whether it's a picture of something recent from your station, or a fascinating look back at the past, send those shots to cnyradio@cnyradio.com or upload via the Contact form.  There's a new POTW every Friday.