SYRACUSE -- It's no surprise -- especially after national coverage on Good Morning America and in the New York Times -- Syracuse and its neighbors have received plenty of snow this year.  There were a few days recently where snow was falling as fast as 2 inches an hour, and one local morning man appears to be "all snowed out."
Inside: two extra pictures this week.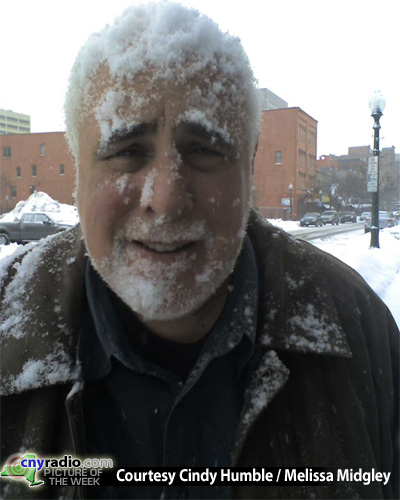 If you haven't guessed -- it's Big Mike Fiss, who handles morning duties for Syracuse's Sunny 102.1 (WZUN) and Utica/Rome's Mix 102.5 (WUMX).  Co-host Melissa Midgley sent in this photo, taken by office manager Cindy Humble during one of those recent mornings where Syracuse was getting walloped with snow.  Melissa says the photo was also posted on Sunny 102's Facebook page, where listeners were invited to write their own captions... we'll admit, we borrowed Zaccary C. Mashaw's contribution for today's POTW headline.
We also have a couple "bonus" Pictures of the Week to share.  Before Melissa sent in this one, Big Mike had already promised to send some shots from Sunny 102's annual Christmas broadcast, which took place one week ago today at Driver's Village in Cicero.  Above, the Solvay Middle School chorus.  Below, Joe Whiting and Loren Barrigar perform for the crowd.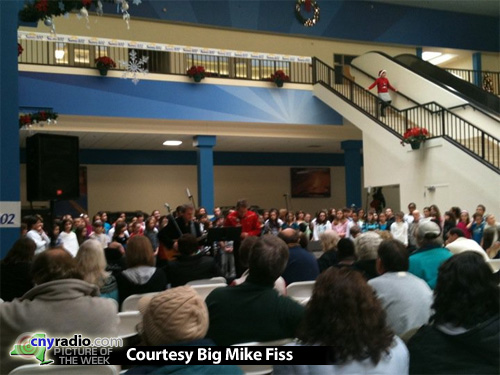 Big Mike says a total of 25 acts performed, including a dozen choruses.  He tells CNYRadio.com he was particularly thrilled because the broadcast "went off without any problems, considering it was 4 hours of totally live radio with no recorded music, no rehearsal and that's amazing."  If you missed the live show last Friday, you're in luck -- they recorded the entire thing for an encore performance starting at 6:00am on Christmas morning.
Got Pictures?
Thanks to Big Mike, Melissa and Cindy for sending in these photos.  With so much big news going on this week, your stressed editor had no time to "hunt" for photos -- so if it weren't for these contributions, we probably would have just gone "POTW-less" for the week.  Next week looks to be just as busy, so if you can help us out with a picture of any recent happenings from your station -- or a classic look back at the past -- we're at cnyradio@cnyradio.com or upload via the Contact form (which you can also find by clicking "Contact" in the menu across the top of the page).