SYRACUSE -- Since late November, local news on NewsChannel 9 (WSYR-TV) has been presented from a temporary set in the corner of the ABC affiliate's East Syracuse studios.  The set used since 1999 was being dismantled -- and earlier this month, the station finally made the long-anticipated announcement that it would soon launch local news in HD, with a brand new set.  This week, one last look back at the old set -- and part of the transition.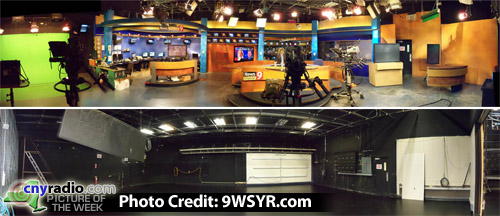 In these two photos (which are available in full-size, with many others, on a special page at 9WSYR.com) you can see the studio as it appeared with the old news set above -- and completely empty, below.
Both panoramic shots actually show three of the main studio's four walls -- it's easier to see where the corners are in the second shot, taken after the old set was dismantled and removed.  Most walls received a fresh coat of black paint, and the floor was also redone and painted black.
It appears the shots were taken from the doorway that divides the station's two studios -- the smaller studio behind the camera viewpoint is where the mid-morning talk show Bridge Street is situated.  Since the studio reconstruction started, the show has been broadcasting live from nearby Shoppingtown Mall -- a move that nicely doubled as a holiday PR boost for the mall.

Other shots at 9wsyr.com show more from the process of dismantling the old sets, a few shots of the new set pieces moving in, and one shot offering a basic floor plan for the new HD news set.  Perhaps the best views of the new set can be found in the "sneak peek" video from the construction.  The website says sneak previews of additional HD elements -- including more set construction, new graphics and HD video clips -- will be coming soon.
The station says all the changes will hit the air in February.  We've heard through the grapevine that rehearsals with the new set (and the all-new HD control room) are either already underway or beginning soon.
Got Pictures?
We realize we haven't had too many television-related pictures yet, and we realize the logo at the top of the page still only says CNYRadio.com.  We're currently working on some graphical upgrades of our own, to acknowledge our recent acquisition of CNYTVNews.com.  So -- whether you're in local radio or local TV -- we're always interest in a look at what's happening at your station... or a shot of something/someone/something notable from the past.  Send those shots to cnyradio@cnyradio.com or upload them via the Contact page.  There's a new Picture of the Week every Friday.