NEW YORK CITY -- Syracuse native David Muir, who worked for five years at WTVH, has been named the sole anchor for the weekend editions of ABC's World News.  He had been previously anchoring on Sundays.  In addition to picking up Saturdays, ABC is renaming the newscasts World News with David Muir.
Although the promotion was announced by ABC News on February 14th, we just learned of it today through an article on syracuse.com.  The latter website says this is the first time the network's weekend newscasts have included the name of the anchor as part of the official title.
Until now, Muir was only the anchor of World News Sunday, while colleague Dan Harris handled anchoring for World News Saturday.  In an official memo to staff, ABC News President Ben Sherwood called Muir "a gifted reporter and storyteller with immense creativity, versatility and dedication to our audience."
World News executive producer Jon Banner said Muir's reporting and anchoring "follows in the great tradition of Diane [Sawyer, the current weeknight World News anchor], Charlie [Gibson] and Peter [Jennings]."
Coincidentally, Muir was in Central New York today shooting interviews for an upcoming series of reports called "Made in America," focusing on companies that manufacture products entirely within the United States.  Muir's report will focus on the Harden Furniture Factory, located in McConnellsville.  The syracuse.com report notes that Harden makes all of its furniture in that single Oneida County location, using wood from trees the company grows in its own 10,000-acre forest.  The series will air next week.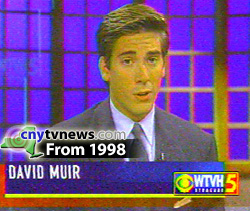 After graduating from Onondaga Central High School in 1991, Muir went on to graduate with the Ithaca College class of 1995.  After five years behind the anchor desk at WTVH in Syracuse, he spent three years at the ABC affiliate in Boston.  Muir joined ABC News in 2003.  The press release from ABC notes that, "in the past year, Muir has anchored World News everywhere from Cairo to London to Tucson, AZ to Beijing."
Locally, World News with David Muir can be seen in Syracuse on NewsChannel 9 (WSYR-TV) and in Utica on WUTR-TV 20.  In addition to his weekend anchoring duties, Muir provides reports for all other ABC News broadcasts, and serves as a substitute for weeknight anchor Diane Sawyer.