SYRACUSE -- This week, it's a trip back in time for the Picture of the Week.  Your editor's random internet surfing has turned up a collection of vintage radio station bumper stickers, posted on Facebook by a well known local radio personality.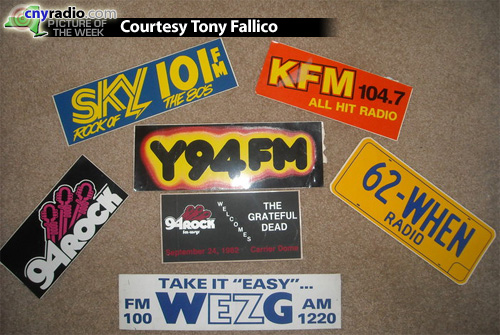 Tony Fallico from the Saturday Night Dance Party at Y94FM (WYYY) posted this collection of bumper stickers on Facebook last summer.  "Stick it and Win" was how he captioned the photo, remembering the slogan often used by stations that gave prizes to people who put the stickers on their cars.
Out of these stickers, only Y94FM still exists with the same logo and format today.  Its predecessor, "94Rock" appears just to the left and below.  Below that, a sticker from WEZG, an AM/FM combo that's now owned by Galaxy Communications -- the "FM100" side is now better known as K-Rock (WKRL-FM) and the 1220AM side -- which moved to 1200AM in 1991 -- is now better known as ESPN Radio (WTLA).
Moving counterclockwise, the famous "license plate" sticker from WHEN.  That's followed by a sticker from WKFM, the predecessor to B104.7 (WBBS), and finally, "Sky 101FM," which your editor has never heard of until now, but some online research indicates "Sky 101" was an AOR format which preceeded WEZG's adult contemporary format.  (No wonder I hadn't heard of it -- I was living downstate in 1984.)
Got Pictures?
There's a new Picture of the Week every Friday... it's a hungry beast to feed, and we could use some help!  We're always interested in shots of what's happening today at your station, or a look back at someone/something notable from the past.  Next time you have a celebrity visit your station, take a picture and send it in.  Unique behind-the-scenes shots?  Send those in!  Or if you come across some vintage photos in the attic, scan them and email them in.  If you don't have a scanner, we do -- email us and we'll try to make arrangements.
Email is cnyradio@cnyradio.com or upload via the Contact Form.