UTICA/ROME -- It's another victorious battle in the ongoing war against heart disease.  The 40th WIBX Heart Radiothon, which started a week ago today, raised $36,000 toward the "Heart Weekend" total of $1.1 Million to benefit the American Heart Association.  As per tradition for the Heart Radiothon, a long list of guests took turns sitting behind the microphones at Utica College.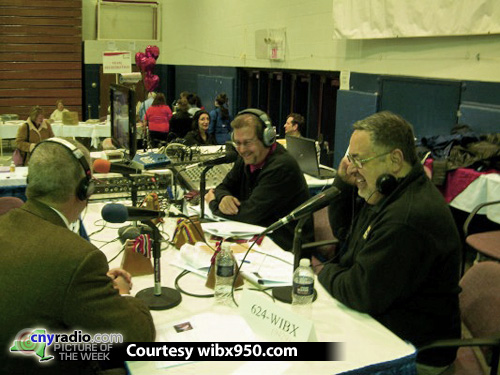 At left is Oneida County Executive Anthony Picente, chatting with WIBX SportsWatch host and PD "Mean Gene" Conte, and morning news anchor Jim Rondenelli.  The entire Heart Radiothon takes place in the gymnasium at Utica College, along with a telethon hosted by NBC affiliate WKTV.  The gym also serves as the reception area for America's Greatest Heart Run and Walk -- and the grand total of all the fundraising efforts was announced on Saturday afternoon at the radiothon's conclusion.  The total for radiothon itself was just released yesterday.
There's a complete photo album with more than 50 other photos from the radiothon -- including many of the other guests (such as WIBX alumni and personalities from sister stations) on the WIBX website.
Got Pictures?
We're always interested in a look at the latest happenings at your station -- radio or television -- or a look back at something "classic" from the past.  There's a new Picture of the Week every Friday, and those deadlines always seem to creep up on us... so we're always grateful to have your submissions on-hand.  Send those shots to cnyradio@cnyradio.com or use the Contact form.