ROCHESTER -- Back in the 70s, you might say Utica radio stations WRUN and WBVM had a rivalry that matched that of Ron Burgundy and Wes Mantooth in "Anchorman" -- well, maybe except for the deadly back alley battles involving trident-wielding weathermen.  But, just as Wes and Ron set aside their differences,  so have these former local rivals.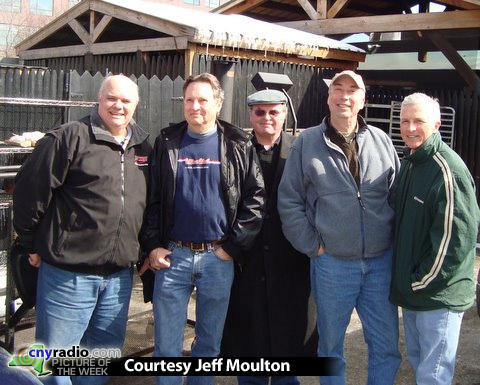 Our thanks to Jeff Moulton, who sent in this photo, including some of the mid 1970s staffs of WRUN and WBVM.
From left: Brian J. Walker (Dr Don) WBVM, Jeff Moulton -WRUN (later WBVM), Paul Russell DeLaubell - WRUN (later WBVM), Don Perry - WRUN and Jim Pastrick WBVM.
Jeff says, "we were bitter enemies long ago but met at the Dinosaur in Rochester to mend fences, tell stories, and eat & drink."  He even came dressed appropriately for the event, adding, "notice the Utica Club shirt I'm wearing."
Got Pictures?
After several weeks in a row of great reader submissions for Picture of the Week, we've finally emptied out the queue.  But you can help keep things going -- just send those shots to cnyradio@cnyradio.com or upload via the Contact Form.  Whether it's radio or TV -- current or past -- we're always interested to see what's happening today at your station, or a look back at something or something notable from the past.  There's a new Picture of the Week every Friday.
Classic Pictures of the Week
If you haven't heard, we recently uploaded ALL the Pictures of the Week which appeared on the "original" CNYRadio.com between 2002 and 2005.  They're all on our CNYRadio.com Facebook page.  "Like" us today to get the latest CNYRadio.com/CNYTVNews.com headlines in your Facebook news feed and feel free to tag any faces you recognize in the albums.