SYRACUSE -- It's "two for one" Picture of the Week today -- we're taking a flashback field trip and plugging a good cause at the same time.  This, after your editor recently heard for the first time about one local TV news anchor's efforts to help pets in times of medical need.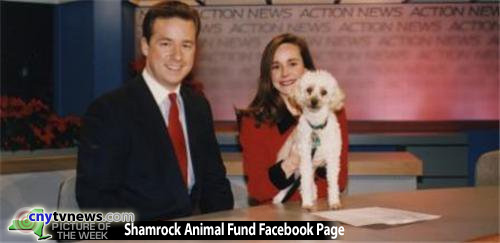 That effort is called the Shamrock Animal Fund, headed by CNY Central (WSTM/WTVH/WSTQ-LP) anchor Matt Mulcahy and his wife Jamie Pomilio-Mulcahy.  Those are the Mulcahys on the old WSTM set, with their dog Shamrock, for whom the fund is named.
As the fund's website explains, Shamrock passed away in January 2010, just about two months shy of his 19th birthday -- Saint Patrick's Day.  Realizing that many animals aren't as lucky to have such loving homes and long lives as Shamrock did, the Mulcahys started the Shamrock Animal Fund.
As they explain, it's "a not for profit agency that provides financial assistance with veterinary costs for animals in need that have owners with demonstrated financial need.  The payments go directly to the veterinarian."
The undated photo above is posted on the fund's Facebook page.  You'll also find some pictures of the present-day news set, when Jamie was interviewed by Laura Hand about the fund.  You'll also see some of the local pets whose lives have been saved thanks to generous donors.  Visit shamrockanimalfund.com to learn how you can contribute.
Got Pictures?
We're always interested in a look at what's happening today at your radio or TV station -- or a look back at something neat from the past.  Just visit our handy-dandy Contact Form to upload your shots.  There's a new Picture of the Week every Friday and we are always grateful for reader submissions.